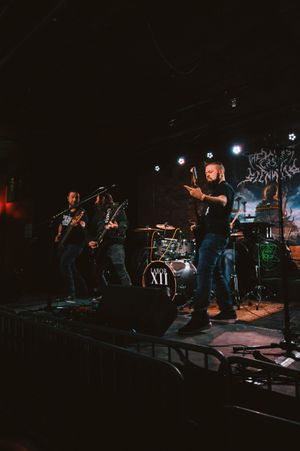 Bio
Fighting Monsters
Giving the Silent a voice
LABOR XII is a hard rock band from Lubbock, TX. 
Founded in 2019 by Ross Hamil (lead vocal/rhythm guitar) and his brother, Jacob Hamil (lead guitar/backup vocal), they were eventually joined by Randy Lee (drums/percussion) and Tanner Pletcher (bass). 
LABOR XII is considered to be a hard rock band with sounds and influences ranging from Alter Bridge, Shinedown, and Collective Soul all the way to Sevendust and static-x. 
With the moderate success of Ross' previous bands, Members of the Bored and Blood Red Summer, they hope to reunite with past fans as well as reaching a new demographic of music lovers. 
In 2020, LABOR XII made their first official release with a live acoustic version of their song M;rror M;rror, which is intended to be a beacon of hope to those battling thoughts of suicide and something to hold onto for those whom have lost loved ones to suicide. 
On November 12th, 2021, they released their debut album MONSTERS, which features guest artists Ken Jay Lacey of static-x and mixed/produced by Evan Rodaniche (Cage9, Powerman5000, Lacey Sturm).